NEW KINDERGARTEN UPGRADES BENEFIT SUNBURY & DIGGERS REST FAMILIES
Local kindergartens will be upgraded as part of the Andrews Labor Government's promise to deliver new kindergarten infrastructure improvements, with two grants to help increase playroom sizes for local families.
Josh Bull MP said that every local kindergarten that had applied for a minor expansion grant had been successful.
Over $40,000 in grants will go to assisting Sunbury and Diggers Rest kindergartens ahead of the introduction of improved staff-to-child ratios in 2016.
The grants of up to $25,000 will allow kindergartens to enlarge their playrooms, giving them flexibility and space for children to learn. Better ratios will mean more one-on-one time for every child and boost the value Victorian families receive from the time their children spend at kindergarten, in preparation for school.
The grants form part of the Andrews Labor Government's $50 million investment in the early childhood sector through the building and upgrading of kindergartens and children's centres. The Labor Government is committed to making Victoria the Education State – and this begins with giving every child a strong start in life.
Early childhood teachers are now required to be registered with the Victorian Institute of Teaching, recognising their critical role in delivering valuable early childhood services for Victorian families.
After two years of stalling under the previous Liberal Government, the Labor Government has delivered on its promise to assist the parties in the early years industrial dispute reach a resolution, with a Heads of Agreement now signed paving the way for a solution.
This will see early childhood teachers reach pay parity and help Victoria's early years learning services attract and retain talented and highly qualified educators.
Quotes attributable to Josh Bull MP, Member for Sunbury
"Through these investments, the Andrews Labor Government is helping prepare children for the transition from kindergarten to school and boosting the value of early years learning for Sunbury and Diggers Rest families."
"Every local kindergarten that applied for a minor expansion grant was successful."
"This is big win for local families – these grants will help kindergartens transition to the improved staff-to-child ratios by enlarging their playrooms to give them flexibility and space."
"The Andrews Labor Government is making Victoria the Education State – improving the facilities of our early childhood learning environments is an important part of that."
LIST OF KINDERGARTENS
Diggers Rest Preschool $15,000
McEwen Drive Preschool- Sunbury $25,000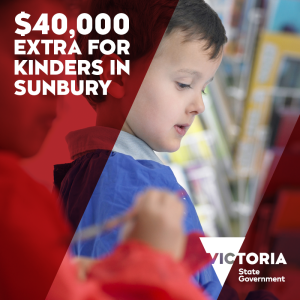 Related Topics