VICTORIA SETS COURSE FOR JOBS AND GROWTH IN RENEWABLES
The Andrews Labor Government is rebuilding Victoria's reputation as the nation's leader for renewable energy, today unveiling its Renewable Energy Roadmap.
Labor member for Sunbury Josh Bull said the Renewable Energy Roadmap is the first to announce the Government's plan to attract Victoria's share of renewable energy investment and jobs in Australia by 2020.
The Labor Government also launched an initiative to source renewable energy certificates from new projects in Victoria, bringing forward around $200 million of new investment in renewables.
It is expected that around 1,000 direct and indirect jobs will be created during the construction of the new projects, with most of the new jobs based in regional Victoria.
The Roadmap outlines a set of initiatives aimed at accelerating the development of renewable energy projects in Victoria. It has been developed in partnership with key energy sector stakeholders, including industry, consumer groups and environment groups.
The Roadmap identifies the following four priority areas:
 Establishing a renewable energy target of no less than 20 per cent by 2020
Using the Government's electricity purchasing power to support the creation of hundreds of renewable energy jobs
Ending unfair discrimination and improving access to the grid for solar customers
Supporting clean energy jobs through the $20 million New Energy Jobs Fund
Public consultation on the Roadmap will feed into the development of the Victorian Renewable Energy Action Plan, which will set long-term actions to drive renewable energy investment in our state.
The Roadmap can be accessed online at http://www.energyandresources.vic.gov.au/energy.
Quotes attributable to Josh Bull MP
"Renewable energy means jobs. Our plan puts us on course to build more projects and drive growth."
"Victoria has world-class renewable resources. We will use them to make our state an industry leader."
"These projects will create jobs and grow regional Victoria, where many renewable energy projects are located."
"The Roadmap will keep Victoria on course to achieve at least 20 per cent of electricity generated from renewable sources by 2020."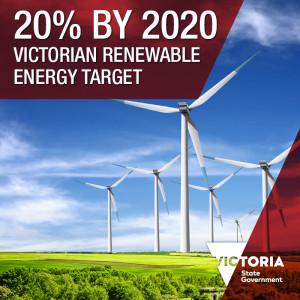 Related Topics