MAKING SURE YOUTH GET A SEAT AT THE TABLE
The Sunbury Youth Advisory Council welcomed is newest members this week at its first meeting for 2018.
With Member for Sunbury Josh Bull MP, welcoming the group of eager new members keen to have their voices heard.
The Sunbury YAC is made up of 10 young people from all across the Sunbury electorate with representatives from all Secondary Colleges:
Sunbury Downs College
Sunbury College
SalesianCollege
Gladstone Park Secondary College
The purpose of the YAC is to discuss a range of local issues and challenges young people face every day in our community as well as working with Josh and Government towards finding real solutions to these issues.
The council takes an active role in advising Mr Bull on youth policy though collaboration, consultation with their peers and research. Following the 2014 election, Mr Bull committed to establishing the YAC to ensure a real and meaningful opportunity for young people to connect with their Member of Parliament and speak directly to them about their issues and ideas.
Mr Bull thanked the work of the previous YAC members who helped make history in forming the first ever Youth Advisory Council for the Sunbury electorate.
"Their work set the foundation for this YAC to have an even greater impact on their community."
"It is extremely important that we listen to our young people when shaping and steering public policy and as a member of the Andrews Labor Government I am committed to seeing the lives of all of local young people improve."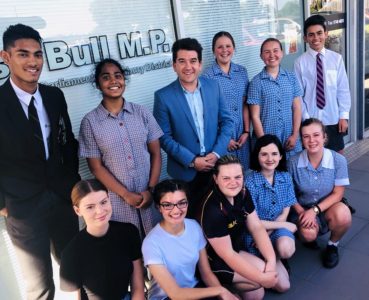 Related Topics